the Engine House at Eureka Springs
Historical Account:
In keeping with my established plan of building all of Brett's kits beginning with his first kit and working through the production run in order, I am now embarking on a build of SierraWest Scale Models third release; the Engine House at Eureka Springs. This is kit number 102 with an advertised limited run of 300. Eureka Springs, as it will be referred to during this build, was released in October 1996.
Preceding the main Eureka Springs kit release was a smaller (mini) kit called Eureka Springs Boiler House in Ho/HOn3 kit number 8083. The earliest I found mention of this mini kit was a half page color advertisement in the May/June 1996 issue of Narrow Gauge and Short Line (NG&SL) Gazette. There was not a picture of the kit just a description under the heading "New Mini-Scenes:" The insert in the kit states "The Boiler House, is the first release in our special Eureka Springs collection. Designed as a companion structure to the ES Engine House." Following the October 1996 release of the main Eureka Springs Engine House kit, I could not find an ad in the NG&SL Gazette in the few months prior to the release. In the mean time, an ad for the Eureka Springs Boiler House was featured in the Nov/Dec 1996 issue. This ad was a half page full color ad (see figure 1).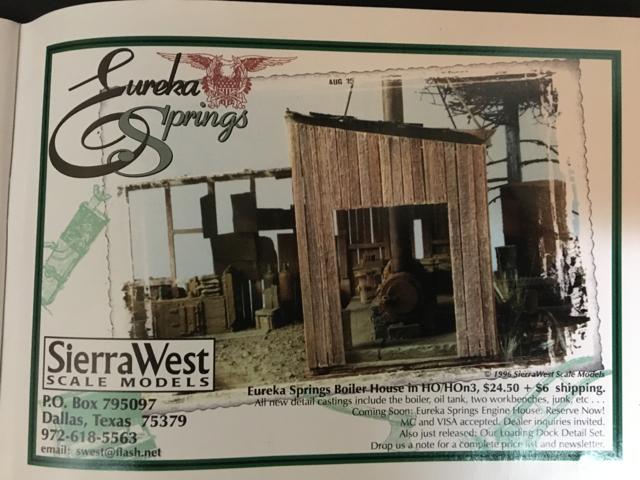 (Figure 1)
Following the Nov/Dec issue of the NG&SL Gazette for the Boiler House featured in figure 1, and prior to an initial ad for the main Engine House kit, there was a half page ad in the Jan/Feb 1997 issue of the NG&SL Gazette announcing the soon to be available "the Engine House at Eureka Springs" (Figure 2)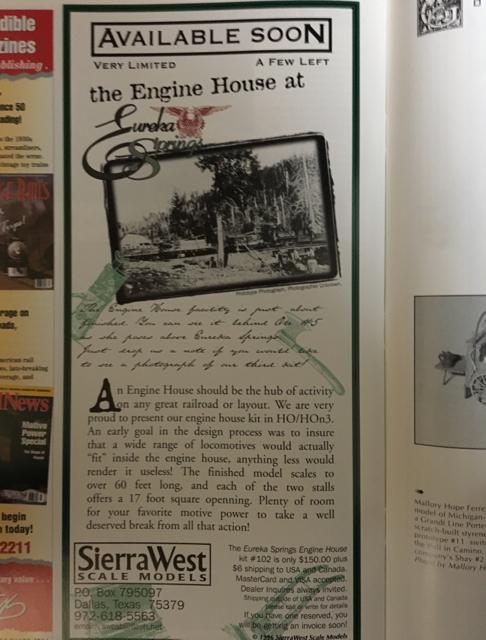 (Figure 2)
Then in the Mar/Apr 1997 issue of the Gazette, a full page color ad was run for Eureka Springs (Figure 3). This same ad was also featured in the May 1997 issue of Railroad Model Craftsman.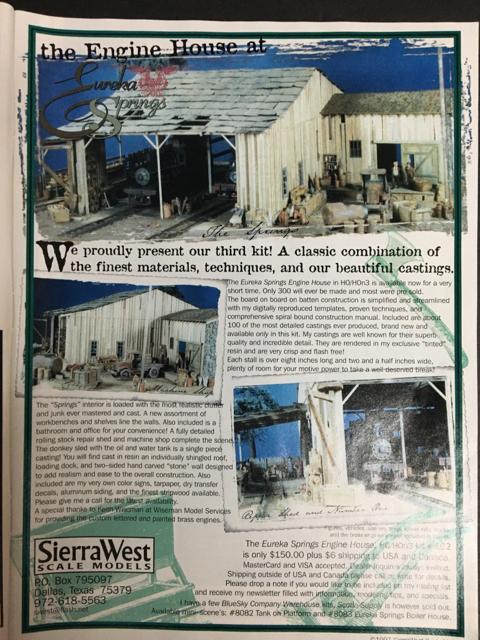 (Figure 3)
Then the last ad I located was the next issue, May/June 1997, of the NG&SL Gazette. this was a half page black and white (Figure 4).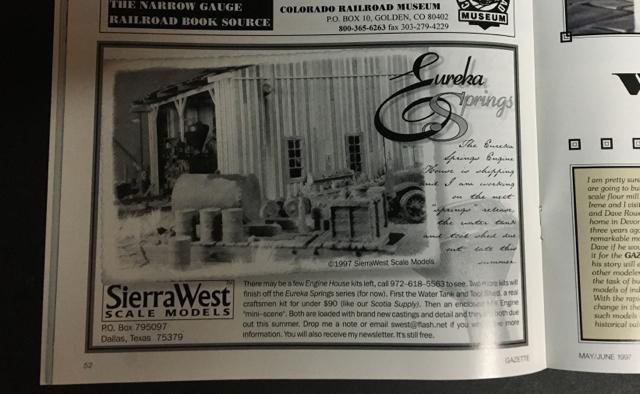 (Figure 4)
The Engine House at Eureka Springs was a well advertised kit and naturally sold out very quickly owing to its popularity. The stage had been set, from the first release of BlueSky Company, for the prolific production, over the next 25 years, of the finest fine scale craftsman kits ever produced (my words...not Brett's...Lol).