Hello all,
I've been a member here for a number of years, but this is my first actual post.
I am not what you might call a "trains" guy – more of a "sticks and strings" guy. Most of my modelling to date has been of ships, specifically 18th century sailing ships. A few years back, I came across this kit by accident when a fellow ship modeller posted something about it on the Model Ship World (MSW) forum. I can't remember now exactly who that was, but whoever it was, it's all his fault!
I thought this was a lovely diorama – something I had not tried my hand at before, and even though it's not something I would normally go for, I was intrigued to learn more. My investigation led me here to the SierraWest website, where I learned that this model kit uses a number of interesting and innovative modelling techniques that are certainly new to me. I just had to give it a try. And while I was at it, I couldn't help myself and bought a "companion" kit of Foss' Landing – something for a future build…
When I broke the kit out the other day, I was thinking it was only a couple of years ago that I had bought the kit(s). When I thought further on this, I realised that it was actually in 2015 that I bought these, fully intending at the time that these would be the "next" model. Well, seven years later, I'm finally ready to start!
I've decided to post my build here in the hope that all of you who are experienced with these excellent kits might guide and advise me along the way. All comments/constructive criticism are welcome.
Let me say up front that I'm very impressed with the kit contents and especially the detailed instruction manual. I've also seen the videos here in the "University" and have read through some of the many build logs as well.
Advance Preparations
Construction begins with some advance preparations. As this is an older kit, there is reference throughout the manual to Floquil paint colours. Now that these have been discontinued, Brett states that he now favours acrylic paints from AK Interactive. However, there is no direct conversion suggestion from named Floquil colours. I spent a considerable time researching on the internet to try to get as close a match as I could to the Floquil colours. Try as I might, I could not find a conversion chart that included both the Floquil and AK paints. I ended up using a site that specialised in paint matching, typed in the Floquil colour name and then used the resultant screen depiction to try to match against an AK colour. Although there are certainly limitations on screen/monitor colour representation, I think I got reasonably close in the end. At the end of the day, I guess an exact match isn't important, but I'd like to be "in the ballpark".
Three Floquil colours are needed for the advance preparation: Grimy Black, Boxcar Red, and Earth. My AK matches of choice were Basalt Grey, Mahogany Brown, and Grimy Grey respectively. Why paint manufacturers use obscure names instead of a scientific identification system is beyond me! 
First up, Bag
#5
is called for: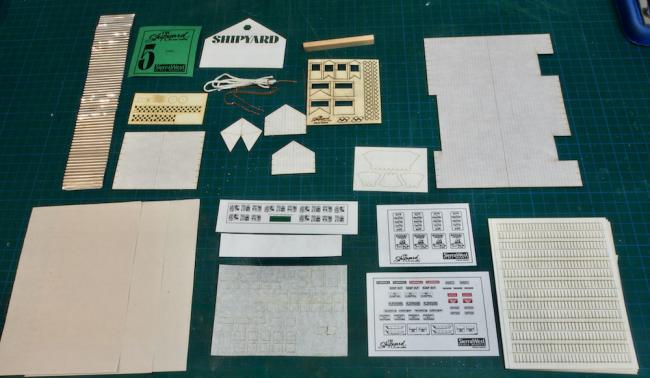 From there we are instructed to extract the three sheets of 4" x 6: tar paper, the laser cut sheet of awnings, and the sheets of laser cut shingles.
The three sheets of tar paper are all sprayed with a coat of Grimy Black/Basalt Grey on one side. One sheet has the same on the reverse, while the other two get a coat of Boxcar Red/Mahogany Brown.
The laser cut sheet of awnings gets the same treatment, and the laser cut sheets of shingles get a light coat of Earth/Grimy Grey – "just enough to hide the white paper".
This was my first experience of using AK Interactive paints, so I was somewhat apprehensive about leaping in. My research suggested that for airbrushing they should be reduced with AK's own thinner at a ratio of about 70/30 thinner to paint. So that's what I did. I took a little while to do some practice and fiddle with air pressure and paint delivery. With the air pressure dialled down (about 15-18psi) and the paint delivery shut almost right down, I was pleasantly surprised at how well it sprayed, with absolutely no tip-dry occurring. Here's a picture of the completed painted parts. I've turned one sheet of the shingles over to show the original state. I'm pretty happy with the colours as they've turned out.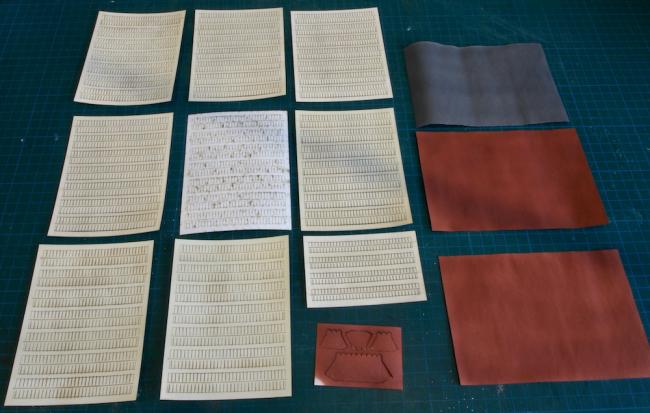 The other advance preparation was to make up an alcohol stain using non-waterproof black ink dissolved in isopropyl alcohol at a ratio of 1 teaspoon (5ml) of ink to one pint (600ml) of alcohol. I took Brett's advice and ordered the Higgins brand of ink via Amazon.
Okay, we're off and running – or crawling, anyway!
I have one question at this point. In the first picture above, of the contents of Bag#5, at the top left of the picture is some corrugated metal. I have read through the entire instruction book and looked through logs but cannot seem to figure out what this is for. I'm sure I'm missing something as I read. Can anyone enlighten me please?
Grant