Brett's kits are famous throughout the hobby for having the highest quality detail parts available in the market and there are more packed in the box than can be found anywhere else.
The details are beautifully and cleanly cast, with continually new and original details being mastered for each new kit release.
As with every stage of building a SierraWest kit the process of working with the many detail castings is explained thoroughly in the manual. Follow and master those instructions and you will be very happy with the results.
In this thread I am going to go over the basics of painting the castings with the simple methods that yield excellent results. Once these basics are mastered they can be used as a base for more involved techniques or developing your own methods.
Mastering the basics will give a good understanding of how things interact.
I never said that I was the tidiest person, but this shows the workspace....
everything pretty close to hand, a selection of the most used paints, brushes, foam bases for holding the castings, an old rag to dry them on, dish of water to clean brushes ( It is easy to knock over a cup of dirty, paint coloured water, thereby ruining a perfectly finished structure wall that you had carefully put to one side while painting details. It is much harder to knock over a dish. Trust me, I know !). And other various modeling 'stuff' .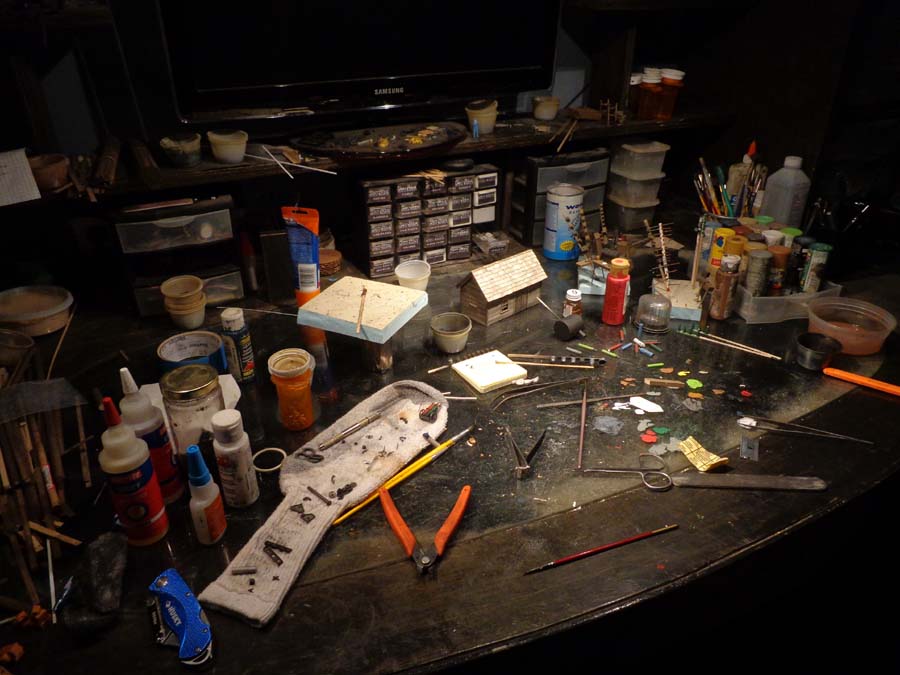 The benefit of working on glass is that you can mix the paints and chalks right where you are working, going in and out of each as you need them. It's also really quick to clean up after a session with a single edge blade. Glass is also perfectly flat and can aid in ensuring something is level, tanks/barrels standing up straight etc... If not a full glass table top then a piece of glass on the bench is most beneficial, you wont go back.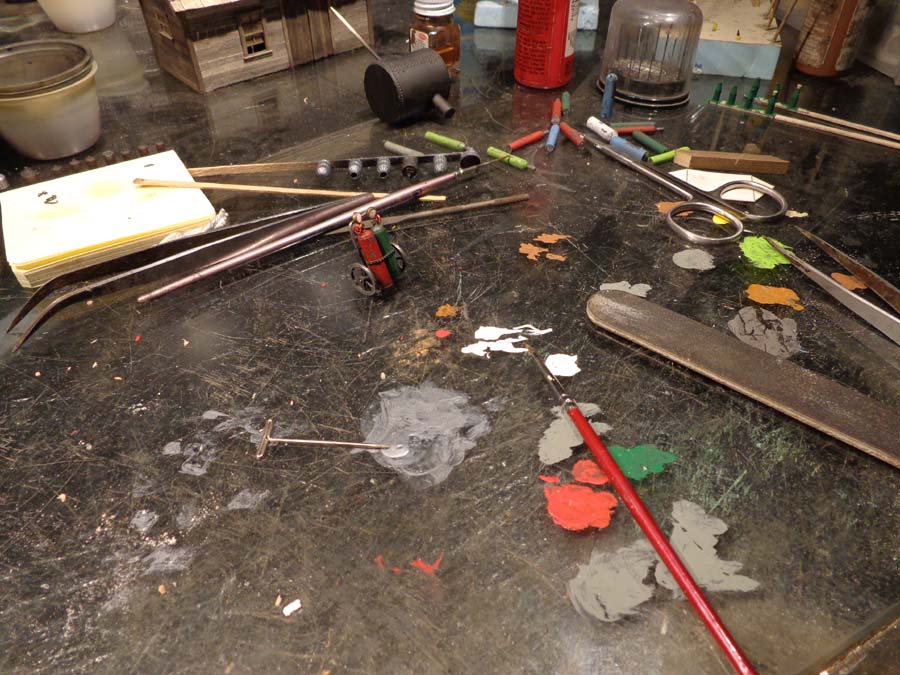 A small selection of HO castings to work on, I tried to get a good representative variety.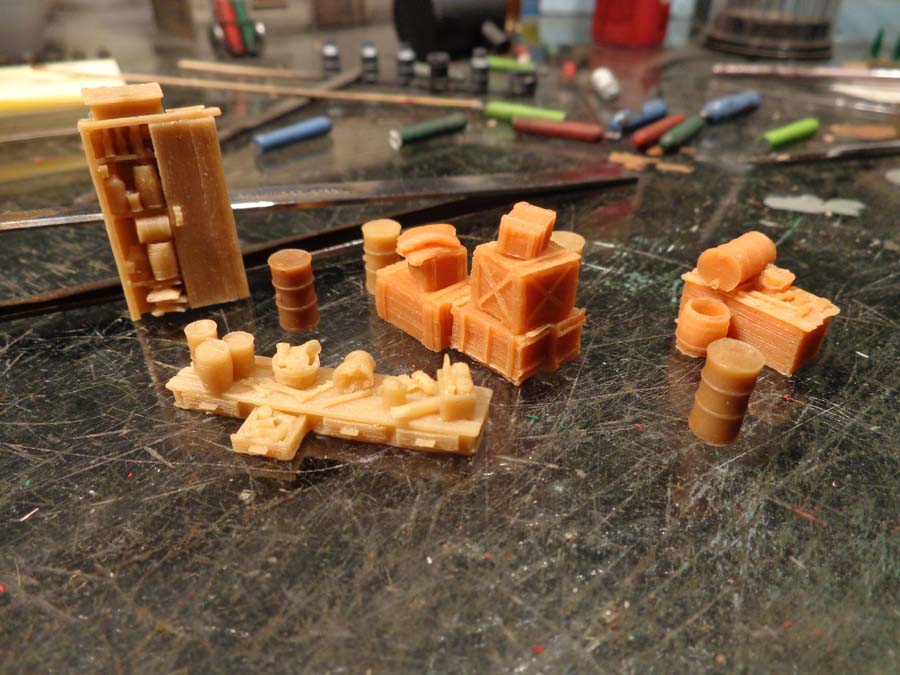 One of the most important things for me is to be able to hold the part I am working on securely and steadily.
To this end I like to use double sided tape and either popsicle sticks or coffee sticks to hold the details as I work on them. Easy to work around all sides of the casting and no fingerprints in the finish.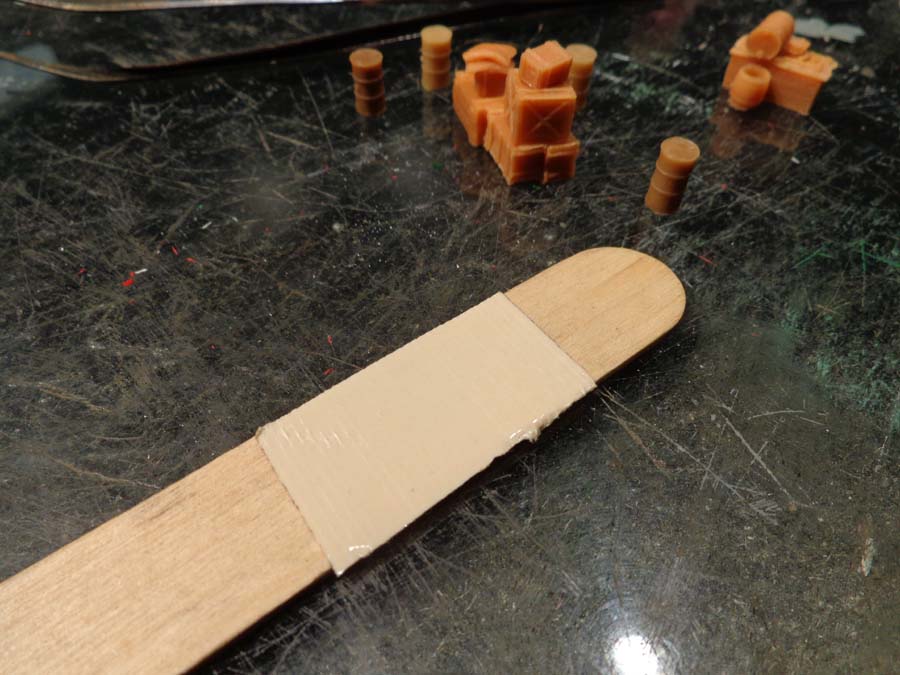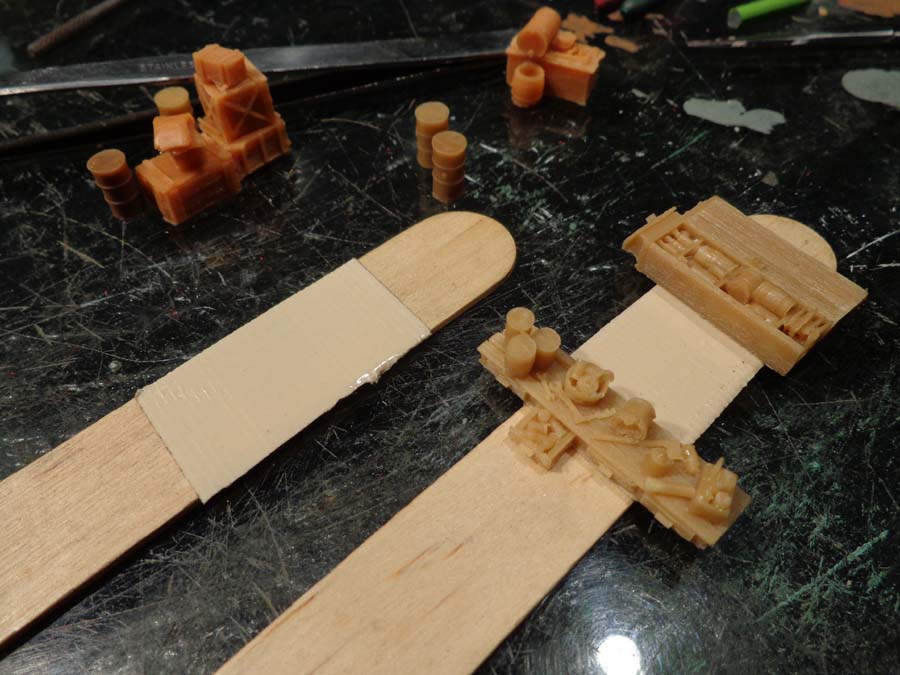 For barrels and drums I like to be able to twist them as I work on them so a hole is drilled in the bottom and a toothpick inserted. Certainly not a new idea and not mine, but, it does work great.
Snip off the point of the tooth pick before inserting it in the casting, this way you wont need to drill so deep which is critical on some items. You want a nice tight fit, the pick will 'squeek' as it grips the casting when you push it in.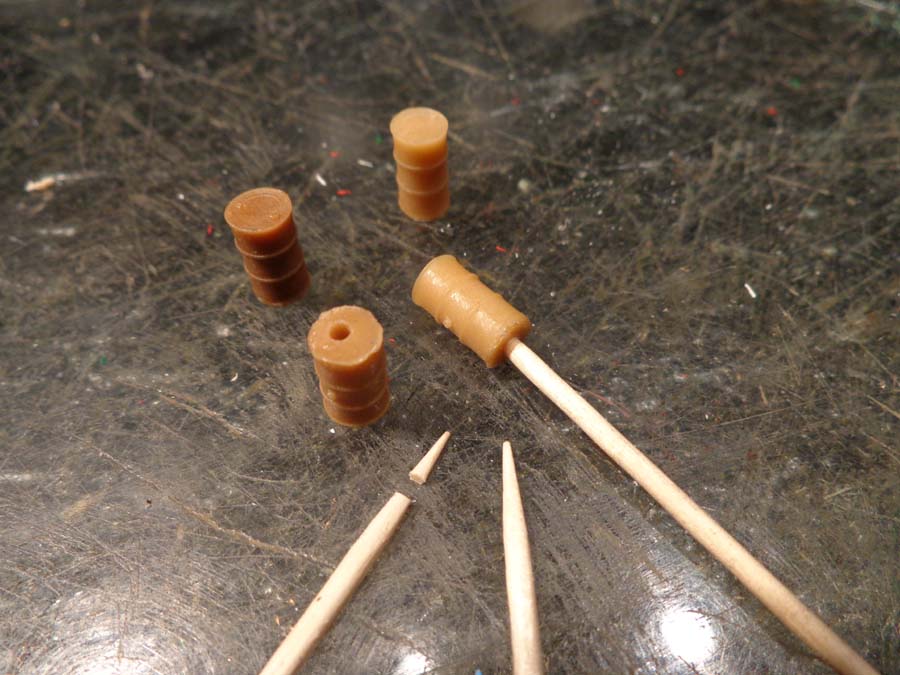 Ready for paint....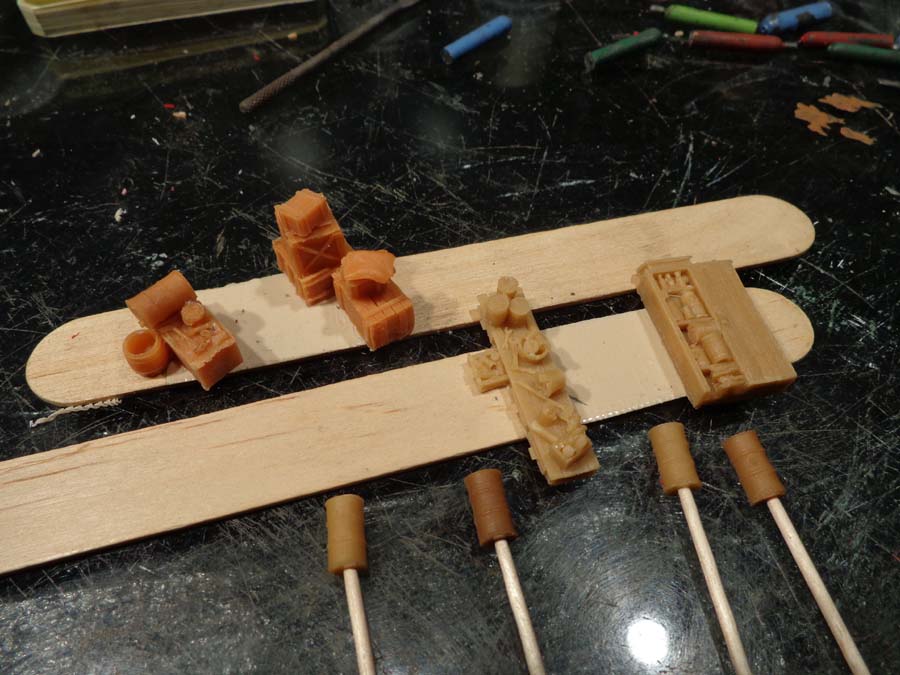 For base coats I prime with rattle can paint. Anything that represents wood I spray with Rustoleum Camoflage "Khaki" a light tan colour almost identical to floquil earth (except in price).
Anything that represents metal gets sprayed flat black, I use either the Wal-Mart or Home Depot in store 99c cans, they contain a fine pigment that will not obliterate the fine details.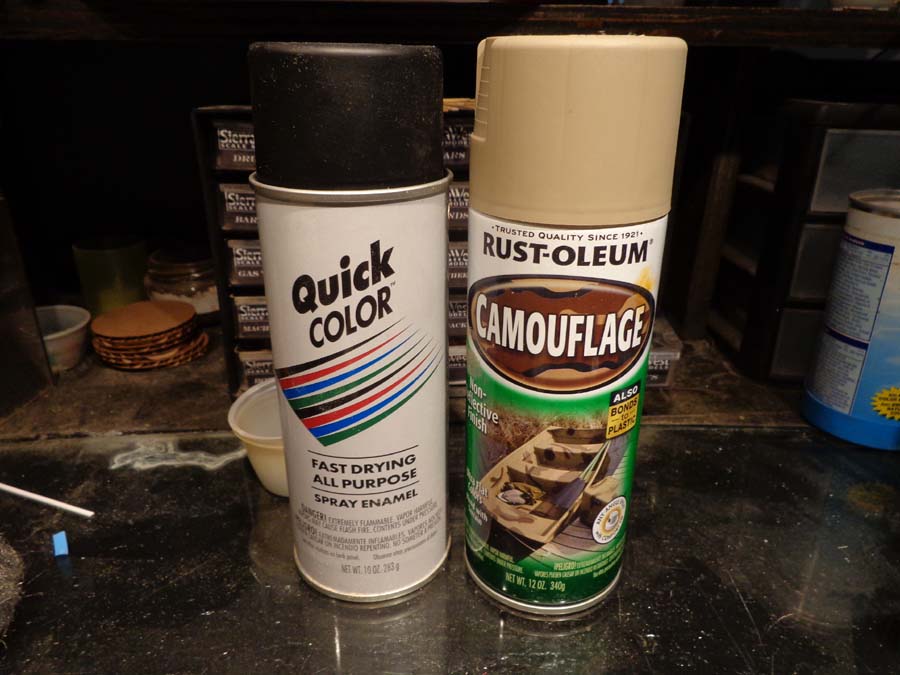 When spraying move the can side to side across the casting, about 6-8 inches from the casting, turn the casting after each pass, you want even, light coverage.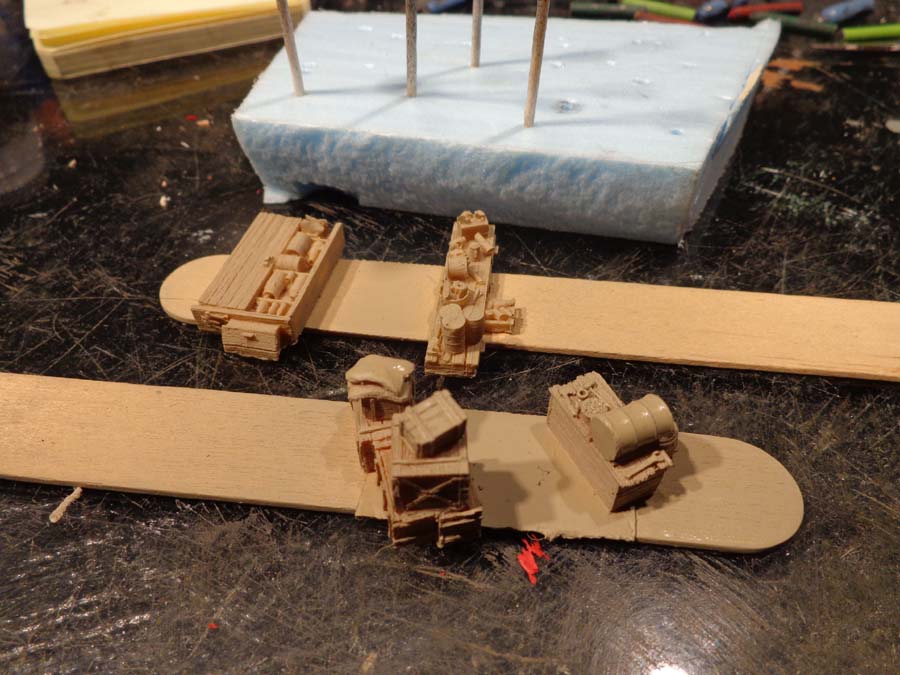 Let these dry well and then it's time for the fun stuff......
Karl.A