Catchy title isn't it??
I was introduced to SWSM kits when I bought an already-built Duluth Plumbing at a train swap meet. I had built a few small kits but I was amazed at the detail of Duluth. How did they do that? I did some research and found the SWSM website. More importantly, I found Karl Allison's tutorials, "Painting Those Details - the Basics" and "Advanced Painting and Weathering of Details with Kevin O'Neill." I was hooked because Karl convinced me through his tutorial that I was very capable of achieving the same results without a lot a natural crafting talent. I bought the Woodcutter's Shack and the rest is history.
I have now built three SWSM kits and I am very proud of the results. I'm not as good as Karl, Brett, Ken Karns, Bill Obenauf, Mike Engler, Steve Drees, or Alan Hubbard, but I believe I can build a pretty good kit by just following Brett's instructions, reviewing the forum build, and asking questions of the resident experts.
Now it's time for me to give back. I talked to Brett about my idea of an in-depth tutorial of a build and he liked the idea. He just said, stay consistent, and don't take two years to build the kit. LOL I'm on it Brett!!
I decided to build O'Neills Fabrication for three reasons. First, it's a kit that is currently available to purchase in case you want to build your kit along with me. Second, the kit incorporates Brett's latest techniques. Finally, it's a really cool kit and is loaded with great details.
As I build the kit, I will go into great detail, mostly with pictures, of each step. I will explain how I do things, which may vary from how you do things. My methods are certainly not the best ones, but they are methods that are tried and true and get great results. I will also give you the details of the tools and other art supplies I use. I will also give you practice tips, sometimes I may give you homework!!
So, here we go ......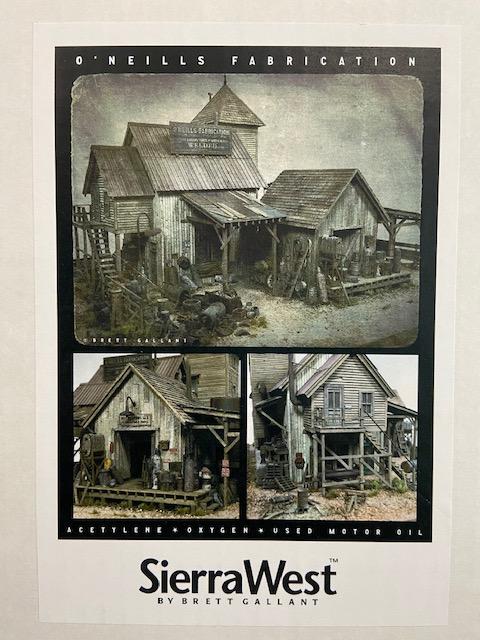 The project is - O'Neills Fabrication, a great HO Scale kit.
Home Work:
1. Locate your O'Neills kit and remove from your shelf (remove the dust if necessary).
2. If you don't have the O'Neills kit, get on the website,
https://www.sierrawestscalemodels.com/
and order the kit. You have time.
3. Review the video, "Adding Details to Stripwood," which can be found on the website under "University", then "Videos." It's the first video.
4. Find Ken Karn's forum build of O'Neills, which can be found on the website under "Forum,", then "Categories," which is found on the left side, then "HO Scale Builds." Ken's forum build is towards the bottom of page 1, entitled "HO Scale O'Neills Fabrication Official Forum Build." Review the build to get an idea of what we are getting into.
5. Most importantly, commit to building this great kit with me.
Next time, we'll get into the box and start our preparations for this great build. I sure hope you follow along. Phil