Deer Creek Mine - Lighting locations
Good morning all,
I am looking for suggestions on where the ideal locations are for lighting on the Deer Creek mine diorama. I am at the beginning of this build (just completed the ore bin) and would like to plan any wires that I am going to run before I get too much further down the line. I have included two pictures from Bill's official build as reference. Any suggestions or thoughts from this group would be appreciated. Lighting will be SMD leds (0402/0603) with shades and possibly some 1.5mm bulbs (although I would prefer to limit or exclude these).
Wondering if anyone has alternative suggestions, additions or thoughts. I am also planning on adding a couple of lights in the hoist house.
Thanks all for your time and thanks Bill for your build thread.
Mike
My current thinking is:
Picutre 1
A&B - light the stairwell and dump track areas
C - I don't know how to effectively light this area yet - Maybe a second Post and light shinning on the chutes.
D - Post and light that shines towards the door of the house and the boiler area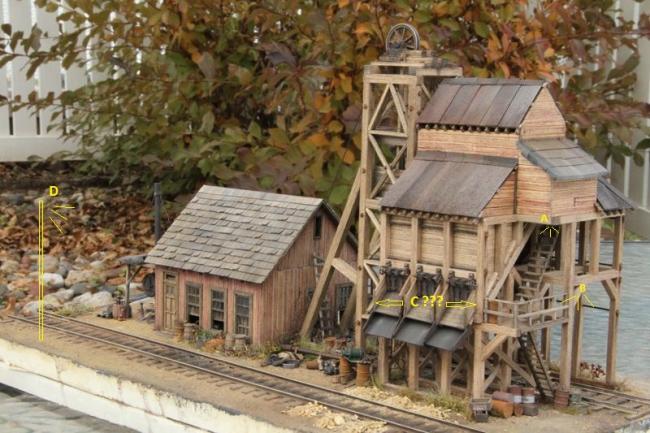 Picture 2
G&H - To light work areas and provide back light to the diorama as it will be the back side of viewing on the layout