With Brett's encouragement, I'm going to venture into my first build and first build thread. I suspect that I share some of the same circumstances as others reading this forum: looking to start my first SWSM build and concerned about making a mistake, especially compared with the craftsmanship shown throughout the threads.
I model in HO scale and have acquired a good number of SWSM kits all with a planned place on my layout. See the photo below.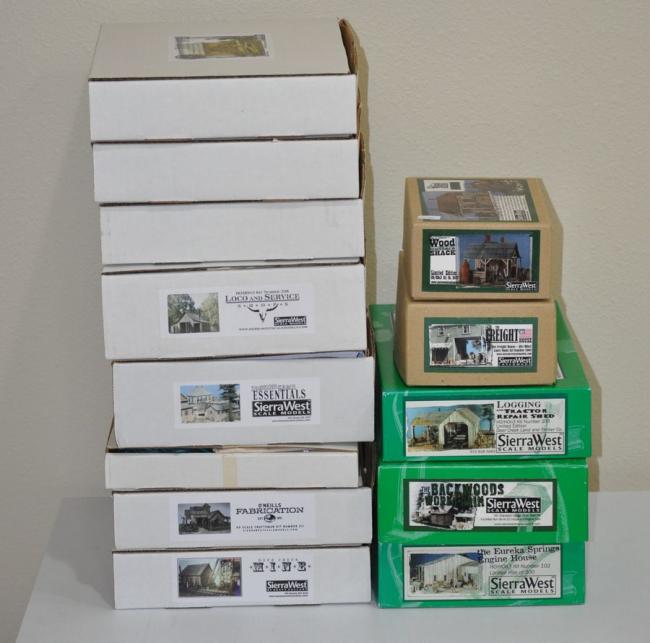 The top three unmarked boxes are a couple of tool sheds and one lineside shed. The other unmarked box is Duluth Plumbing Co.
I considered starting with one of the sheds, but have plans for them on my layout, so didn't want to mess one up in a learning experience. I've also felt some concern about starting my first outing on the HO scale details given my eyes are not getting better as my youth is appearing more distant in the rear-view mirror. The O Scale Dueling Shacks seemed to really be a good kit to start with. As Brett notes, "The Dueling Shacks are Not About Scale. They're About Learning New Methods and Techniques." I've included this bit of narrative so that if there is someone else in a similar position, you might consider jumping in also.
So I'm starting this thread at the point we are with every one of Brett's kits, anticipation of the arrival of the box. That for me should be day after tomorrow.
One of the elements Brett mentions is that his kits are designed to tell a story. I want to practice that as well and want to add a story to this kit. At this point, my intent is to have each shed on either side of a pull out on the side of a dirt road, with a 1930's pickup pulled in with a man standing between the sheds, holding a tool, looking as if he is deciding which shed to walk to. Growing up on a ranch, there was always a handmade tool box somewhere. I plan to have such a tool box opened in the back bed of the pickup.
Thanks for all your support so far. I'm looking forward to the journey.
I'm frankly in awe of the craftsmanship, and more significantly, camaraderie that everyone shows here. I really would appreciate any ideas or suggestions along the way.
Mark