Hi All.
A few years ago I had started a DCC layout. Life happened along the way and I had to dismantle the layout and power system for it. Although I had well intended plans, I found that I had used the same wire color for a number of functions, had inadvertently reversed some wires, and flat out forgot what I had originally intended in a couple of cases. This was largely due to adding on over a period of time. As I am planning my new layout, and where my SWSM kits will be located, it seemed to make sense to establish a system up front, so as I built SWSM buildings, I could wire them in such a way that they would be readily able to be tied in to the overall system.
I decided to build a central power distribution center that I could relocate as the layout increased in size. In talking with Brett, he said there were probably folks who might have an interest in this electron thing. So it is humbly that I offer what I've done as ideas and maybe someone might find it of use.
This is the power center from the front view.

As you can see, the AC to DC transformer is on the left, and next is the DCC control unit. The faceplate has a voltmeter, ammeter, and DCC radio unit. The switch between the two meters is to allow them to be switched into the circuit for diagnostics, and then switched out of the circuit for normal operations.
This next picture shows the overview of the wiring.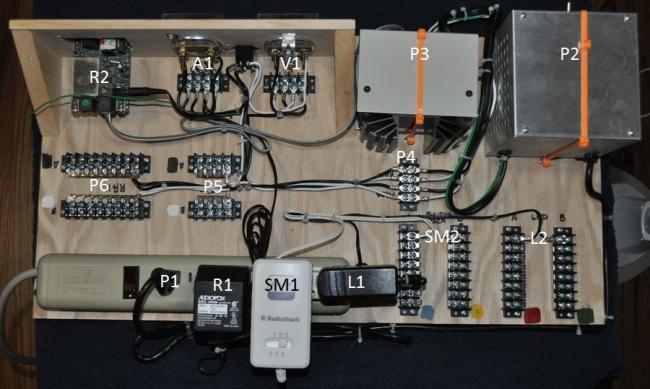 The power center is a piece of 3/4" plywood with a 1/4" thick faceplate mounted along one edge. The transformer and DCC control unit are held in place with tie-wrap and double-stick mounting tape. The AC power distribution strip is a simple switched power strip that affords some overload protection. I've numbered the components by circuit to help identify what is going on:
P1 - 120 VAC power cord for DCC transformer (P2)
P2 - AC/DC Transformer for DCC Control Unit (P3)
P3 - DCC Control Unit
P4 - Landing Terminal for DCC Track Power and Programming Signal
P5 - Programming Terminals(7 available pair), Black(+) White(-)
P6 - DCC Track Power Terminals(15 available pair), Black(+) White(-)
A1 - Ammeter
V1 - Voltmeter
R1 - Power Supply for DCC Radio
R2 - DCC Radio
SM1 - 9 VDC Switch Machine Power Supply
SM2 - Switch Machine Terminals(15 available pair), Blue(+) Yellow(-)
L1 - 12 VDC Regulated Power Supply for LED lighting
L2 - LED Lighting Terminals(15 available pair), Red(+) Green(-) [same colors of magnet wires used in LED circuits]
I painted a small square of color to match the wire color next to each of the terminal strips.
The circuits for the ammeter (A1) and voltmeter(V1) require special wiring to be able to correctly read the square wave DCC signal. This special wiring gives indicative readings but affect the voltage level on the output to the track. For this reason, these meters are switched out of the circuit so they do not affect general operation. The photo below shows a closer view of the circuits.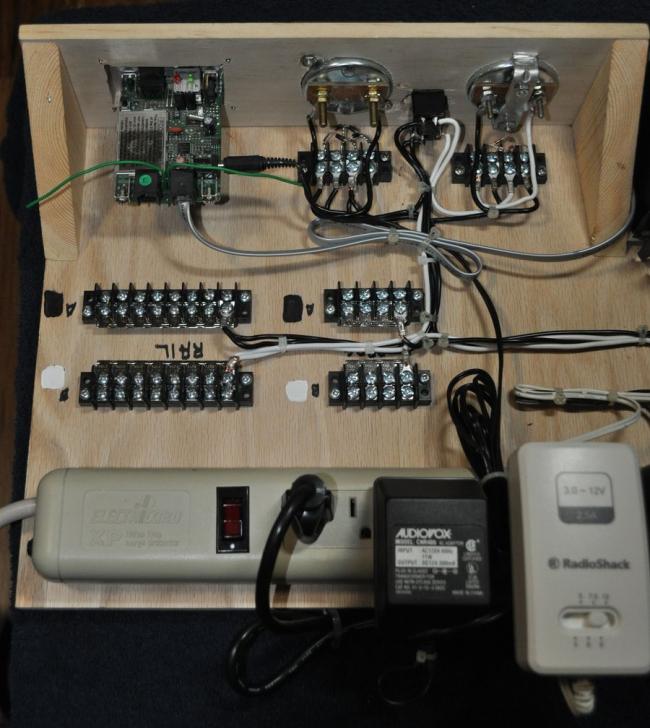 As I have looked at building the SWSM modules for my layout, it struck me that mounting terminals underneath the module with wire colors consistent with the layout, will make it easier to integrate the modules into the layout without mistakes.
I'll be happy to share any further information, but will stop now in case any one is dosing off.
Mark (AKA the nail hole guy, thanks to Ed.)