This is the situation I am in. I'm an iphone user while my personal computer happens to be a surface pro. Getting files from my iphone onto the forum has been a journey for me because I don't have an Adobe subscription or a legacy license for photoshop. Thus, I have found ways to get the required photos converted or resized to meet the forum requirements of a .jpg file that is 2megs or smaller.
The other day while I was taking the baby to bed I had somewhat of an epiphany… the Iphone I have in my hand is a more powerful computer than my first 3 computers combined. Thus, I started exploring the app store. I've found a couple apps that have made it super simple to convert the iphone photos to the required .jpg format as well as meet the 2 meg size requirement. One thing to note, when taking a photo on an Iphone there are two file formats available to the phone. The first being .JPG which we're all familiar with. The other is a newer format HEIC. I think HEIC is a higher compression format Apple is using? I'm not an IT person, but somewhat familiar with photo stuff. I should note that all of the apps that I've bought will do batch conversions.
Below are all of the apps that I use. Halide is what I will use for taking the actual photo sometimes; this is a very good camera app. Also, I should mention that the apps that I've chosen are either not free or require an in-app purchase to get rid of adds. With that being said, I think the total that I spent on software in this folder below is maybe 10-20$?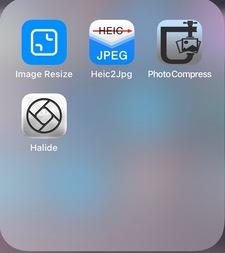 When the photo I've taken is in the HEIC format, I use the following app with the following setting and it seems to work well. I use the HEIC2JPG app at 1/2 target size. HEIC2jpg will search your images on your phone and will automatically tell you which ones are HEIC files. This makes it quite a bit easier to determine which images need this processing.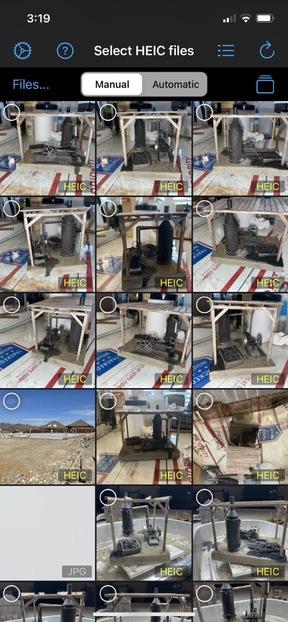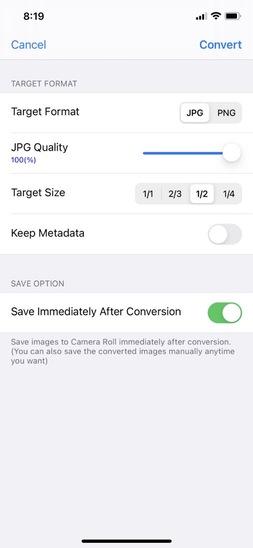 When I have a JPG that is over the size limit that I want to post I follow the below process.
I'll use either the image resize app or Photo compress app. Typically, on my iphone 12 pro a file will be 2.5-3 megs. The nice thing about the image resize app is it shows you the image file size for all of the images in your photo album. Then, there is a slider bar, and you chose how much to compress it. I've been doing about 70% quality and that results in files that are right around 1.8 megs. This is shown in the below screen shots.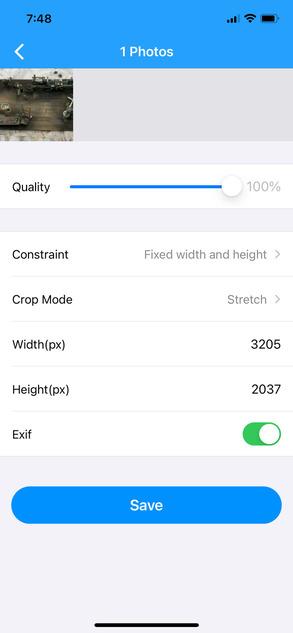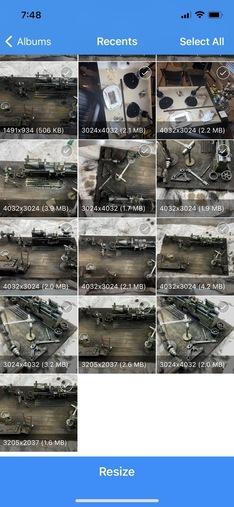 For the photo compress app, once you select your photos it shows you the current size (sometimes I will reference a photo in the image resize app to see the size, then open that image in the photo compress app) and will tell you the finished size. This app will both resize as well as compress the image. Thus, I use both of these.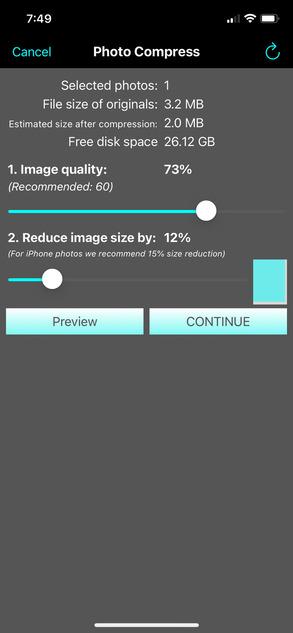 For situations where I resize and I'm just over the 2meg's I need to be at, I crop the photo on the phone with the built-in photo editor. In these situations, by cropping, I've removed enough data to get the file size to at or below the 2meg requirement.
The easiest way I've found to move files from my iphone to my laptop is via my google drive. The google drive app on the iphone is quite easy to use. Then, if you have google chrome on you laptop, you don't need any other application to get to your google drive; chrome will open the drive for you once you're logged into your google account.
Hopefully some of you will find this of value.