Tool Shed - My first Sierra West build
I've been lighting up my structure models and doing lighting clinics for a few years now but haven't really delved into a Sierra West kit. Alan, Bill and Ken have been doing some lighting for a while now too - and they've lit up some of the bigger kits. Anyone else doing some lighting that I missed? Please let me know.
Anyways...after seeing so many of the great builds out there I thought that three types of light would work well in ANY of the SW kits. These would be hanging lights, pole lights, and gooseneck lights. The little tool shed seemed to be a good start since one of each could be used. Here's how it turned out so far: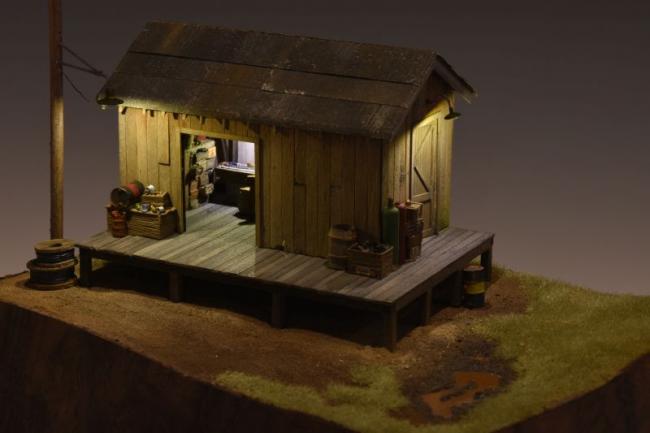 A closeup: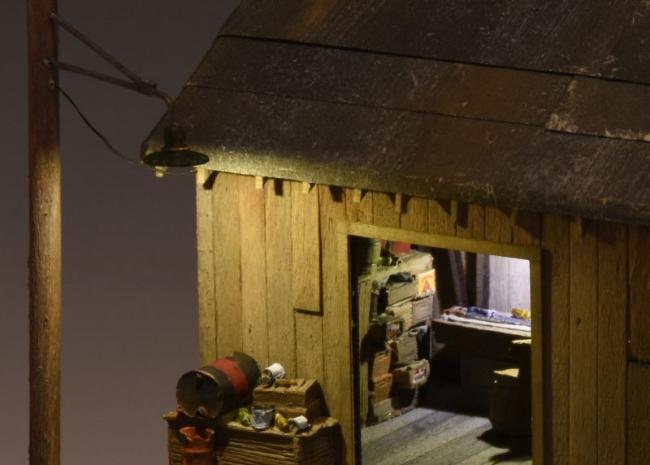 I still need to finish the roof and fix that spot where some tape took off the paint on the roof :-P There are a few more castings to scatter about but I'm running out of time to get things ready for the upcoming Expo. Actually, I don't like the roof as all and ought to fix it. But hey Bill - didn't you say that sometimes you just gotta let things be because when your over work stuff the results aren't always that good?
Here's the pole light: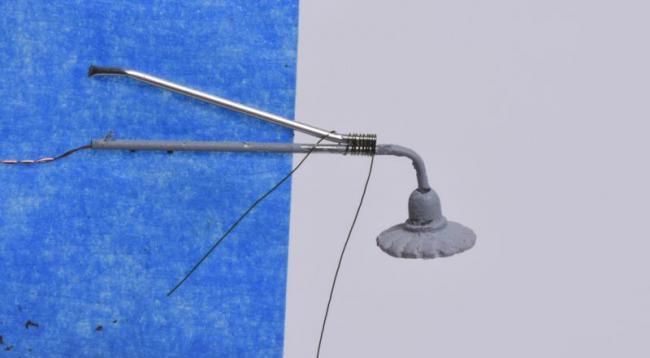 The reflector is one of the castings I stole from the O'Neills kit. It's a little chunky until you sand it down to make it a little thinner. I could've used another kind of reflector but I have a thing for those old radial-wave reflectors and was happy to see one in that smelly casting box. CA glue doesn't always hold that well with tubing so I figured on using some epoxy to stick together the two pieces of tube. Even after sanding down the epoxy glob it still looked like a wad of gum. On the second version (in the photo above) I wrapped some magnet wire around the two joined pieces and gave it a coat of thin CA. That held quite well. When I make the next pole light I'll taper that top support tube (or wire) so that it blends better with the main tube.
Well...I have some SW kits that I need to tear into next year. One of the first jobs (I suppose) will be to go through all the instructions and make notes to reference the latest grundgification techniques from Doctor Grundge.
Bill S. (slim)